Nitrogen balance and Water contamination risk assessement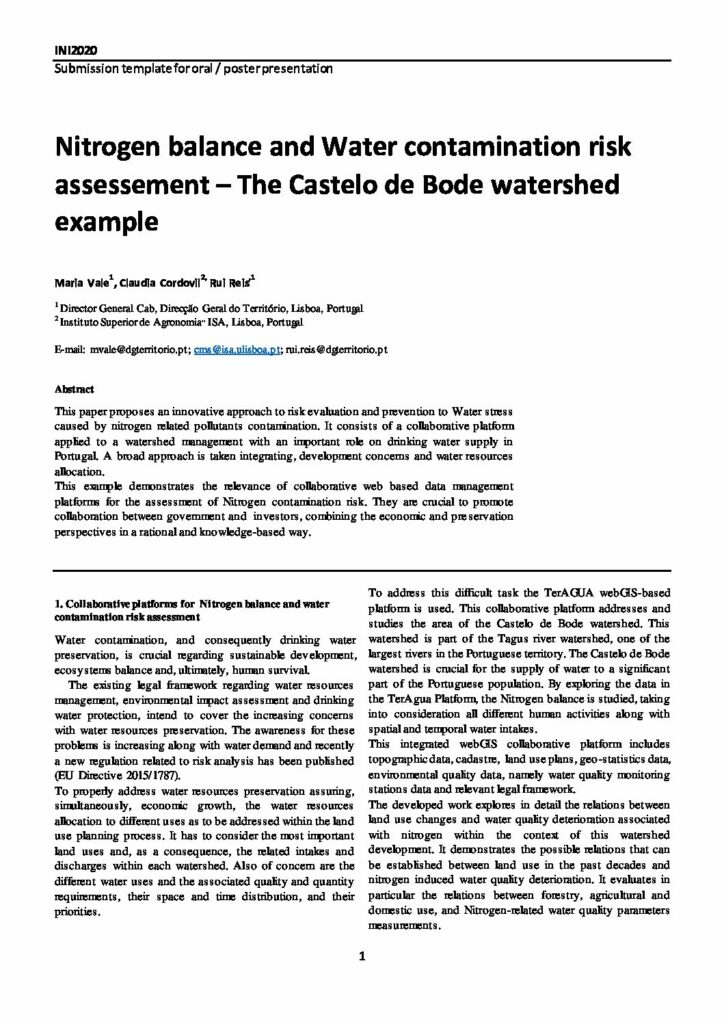 This paper proposes an innovative approach to risk evaluation and prevention to Water stress caused by nitrogen related pollutants contamination. It consists of a collaborative platform applied to a watershed management with an important role on drinking water supply in Portugal. A broad approach is taken integrating, development concerns and water resources allocation. This example demonstrates the relevance of collaborative web based data management platforms for the assessment of Nitrogen contamination risk. They are crucial to promote collaboration between government and investors, combining the economic and pre servation perspectives in a rational and knowledge-based way.
Water contamination, and consequently drinking water preservation, is crucial regarding sustainable development, ecosystems balance and, ultimately, human survival. The existing legal framework regarding water resources management, environmental impact assessment and drinking water protection, intend to cover the increasing concerns with water resources preservation. The awareness for these problems is increasing along with water demand and recently a new regulation related to risk analysis has been published (EU Directive 2015/1787). To properly address water resources preservation assuring, simultaneously, economic growth, the water resources allocation to different uses as to be addressed within the land use planning process. It has to consider the most important land uses and, as a consequence, the related intakes and discharges within each watershed. Also of concern are the different water uses and the associated quality and quantity requirements, their space and time distribution, and their priorities.