The hotel is furnished in Scandinavian style and creates a relaxed atmosphere in contrast to the hustle and bustle on Potsdamer Platz. The modern surroundings offer an outstanding selection of shopping opportunities, restaurants and entertainment. The Scandic hotel is the greenest in Berlin and has 16 conference rooms that are perfect for sustainable meetings.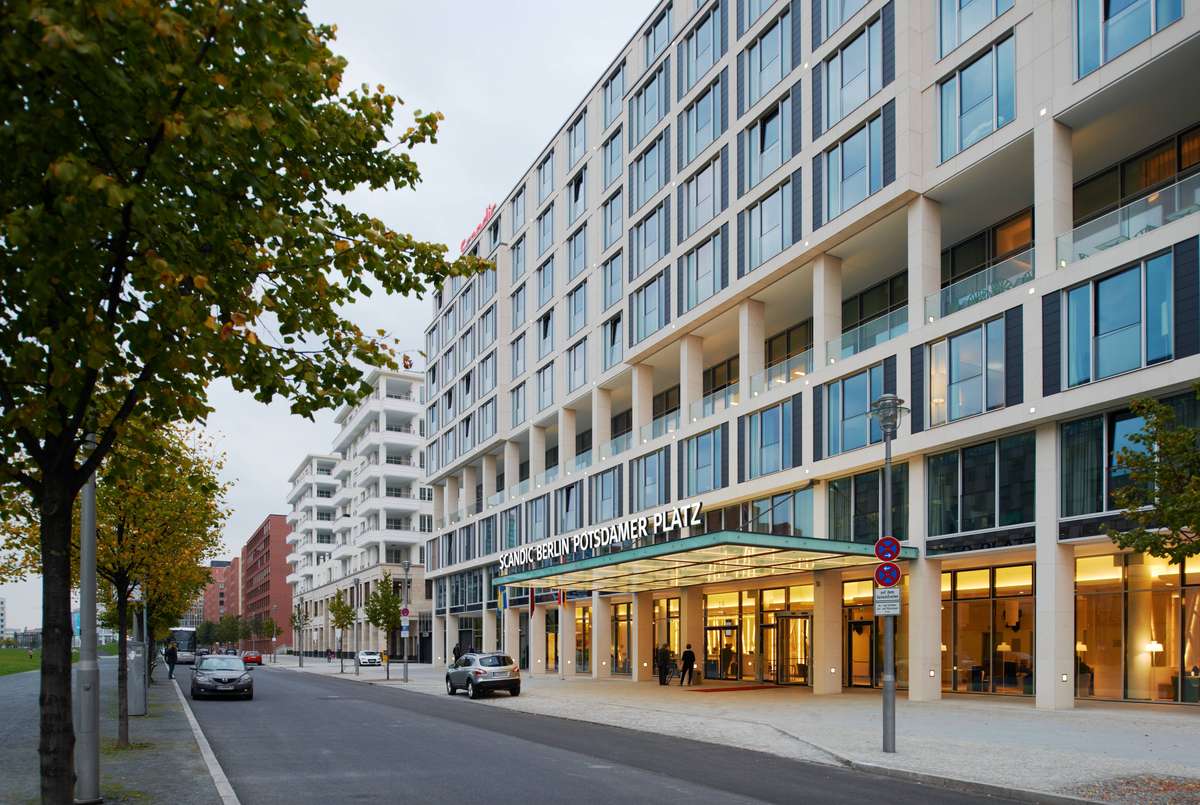 You can enjoy a generous breakfast buffet with many organic options as well as fresh regional and seasonal dishes at our "3rd floor" restaurant. Relax in the bar with Sky TV and a delicious drink. The adjacent terrace becomes a popular meeting spot during our summer BBQ nights.
Akademie Dr Obladen GmbH
The hotel is located in the heart of the city on Potsdamer Platz. Right around the hotel, you'll find the Stage Theatre famous for its musicals, the Sony Center as well as the Film Museum. There are also truly incredible shopping spots like the Mall of Berlin, one of Europe's biggest shopping centres. A short stroll will take you to the Berlin Wall, the Brandenburger Tor and the Reichstag – the seat of Parliament – where you can explore Berlin's history.
Other attractions as well as Berlin's central train station and airports are easily accessible by public transport. The U2 underground, which connects the western and eastern parts of the city, stops directly in front of the hotel and will take you to Alexanderplatz, Gendarmenmarkt and the Zoologischen Garten. Regional trains also stop at Potsdamer Platz. Getting to the Berlin Trade Fair Centre and CityCube exhibition centres will take you 20 minutes by taxi or 30 minutes by underground without having to change trains.
Akademie Dr Obladen GmbH
We have been able to arrange a contingent for the hotel rooms with the hotel. The prices are per night and room and include a breakfast buffet:
| | |
| --- | --- |
| 30 May 2021 | 127 EUR |
| 31 May 2021 | 117 EUR |
| 1 June 2021 | 127 EUR |
| 2 June 2021 | 137 EUR |
| 3 June 2021 | 137 EUR |
| 4 June 2021 | 137 EUR |
* Please note that contingents are only available 395 days before the 1st day of arrival.
You can call up the contingents here: